In life, it's not where you go - it's who you travel with.
-Charles Schultz, creator of the beloved canine cartoon 'Peanuts'
Being a solo traveler and living this gypsy lifestyle has introduced me to a lot of people, people curious to know how I cope with the loneliness of being away from friends and family. When this topic comes up, I half-jokingly point to my four-legged travel companion Mango and say he's the cure for my lonely heart. The truth is, traveling with a dog indeed keeps the loneliness at bay while also introducing me to experiences visitors-sans-dogs rarely see (having a dog is instant street cred, and I can't tell you how many times I've been mistaken for a local). Studies say that having a dog reduces stress and increases happiness, which is a good thing because being a country-hopper with a dog can get pretty frustrating. Adding a dog to an already complicated equation is an extra layer of work but completely do-able with some experience, planning, and puppy dog eyes (both Mango's and mine).
In our eight-month tour of Europe, I think Mango has become a better traveler than me and at twelve years, he is still putting in the miles. We've used buses, trains, taxis, trams, ferries, and a few planes to get around and it has been a relatively easy process. Mango understands the meaning behind me zipping up the suitcase and can barely contain himself with joy as he sniffs his way to the train station. One time in Zagreb, we were walking down a sidewalk when a street trolley stopped in front of us and abruptly opened its old, creaky doors; Mango subconsciously took that as an invitation to board and I had to yank him back to reality. But apart from dog-friendly public transit, dogs are mostly welcome in shops and restaurants in Europe, and even some tourist attractions. Sometimes shops that prohibit dogs (grocery stores, drug stores, bakeries) have leash hooks by the entrance, a welcome detail for dog owners. I never had trouble finding pet-friendly accommodations, even in smaller, more remote towns; almost every hotel we stayed in, though, charged a pet fee, sometimes up to $15 a day. Dog owners can sometimes find 'poop stations' in cities and parks, and every large city has at least one dog park.
Apart from its generous dog-friendly policies and amenities, Europe is very relaxed when it comes to dogs. Europeans are generally okay sitting next to dogs in restaurants and on trains, and don't tsk-tsk owners when dogs bark or run around without leashes. Vets are easy to come by and prices are similar to what you'd find in the US (if not a bit less), although I was pleasantly surprised in Zagreb to get a check-up for our trip to Bosnia for a mere $6. In central Europe, especially Belgium and Germany, there are large immigrant populations from Middle Eastern countries that aren't as dog-friendly, so I noticed many kids crossing the street out of fear of Mango or covered women letting out scared gasps when they saw him board the tram. Coming from the US, which is woefully not progressive when it comes to dog-friendliness despite it being one of the country's largest and fastest-growing industries, visiting dog-friendly countries is a huge relief. I cannot tell you how many times people in the US got mad at me for leaving Mango tied up outside of stores or frantically called me because he wandered into the neighbor's yard.
So, now that I am leaving Europe and heading east to Turkey and hopefully Thailand, I am a bit worried about how to navigate these notoriously less dog-friendly destinations without a car. So far, entry requirements and plane logistics seem manageable (unless I can find a way to fold him in half to put him under my seat, Mango must fly cargo) but I may have to either grit my teeth and rent a car or take less frequent trips while there because I'm 99% sure dogs aren't allowed on public transit. Whatever happens, though, I can rest assured knowing that my best friend and favorite travel companion is right there with me, exploring the wonders of the world doggy style.
Mango Action Shots in.....
Sweden
Sweden is a beautiful country to visit; development is compact, transit options are abundant, and nature/culture is carefully preserved, so seeing the country's natural and cultural offerings without throngs of tourists is refreshing. This Scandinavian dream is extremely progressive when it comes to issues like women's rights, LGBT rights, urban planning, parenting, and more, with the exception of dog-friendliness. Yes, dogs are allowed on public transit and trains (without purchasing a pet ticket) and inside some restaurants, but most restaurants, cafes, and shops prefer to keep the pups outside. I was in Sweden for my first three months traveling abroad, so I was still adjusting to traveling with a dog and didn't do a ton of exploring with Mango, but can say with 100% certainty that lovely Sweden is unfortunately not as dog-friendly as its European counterparts.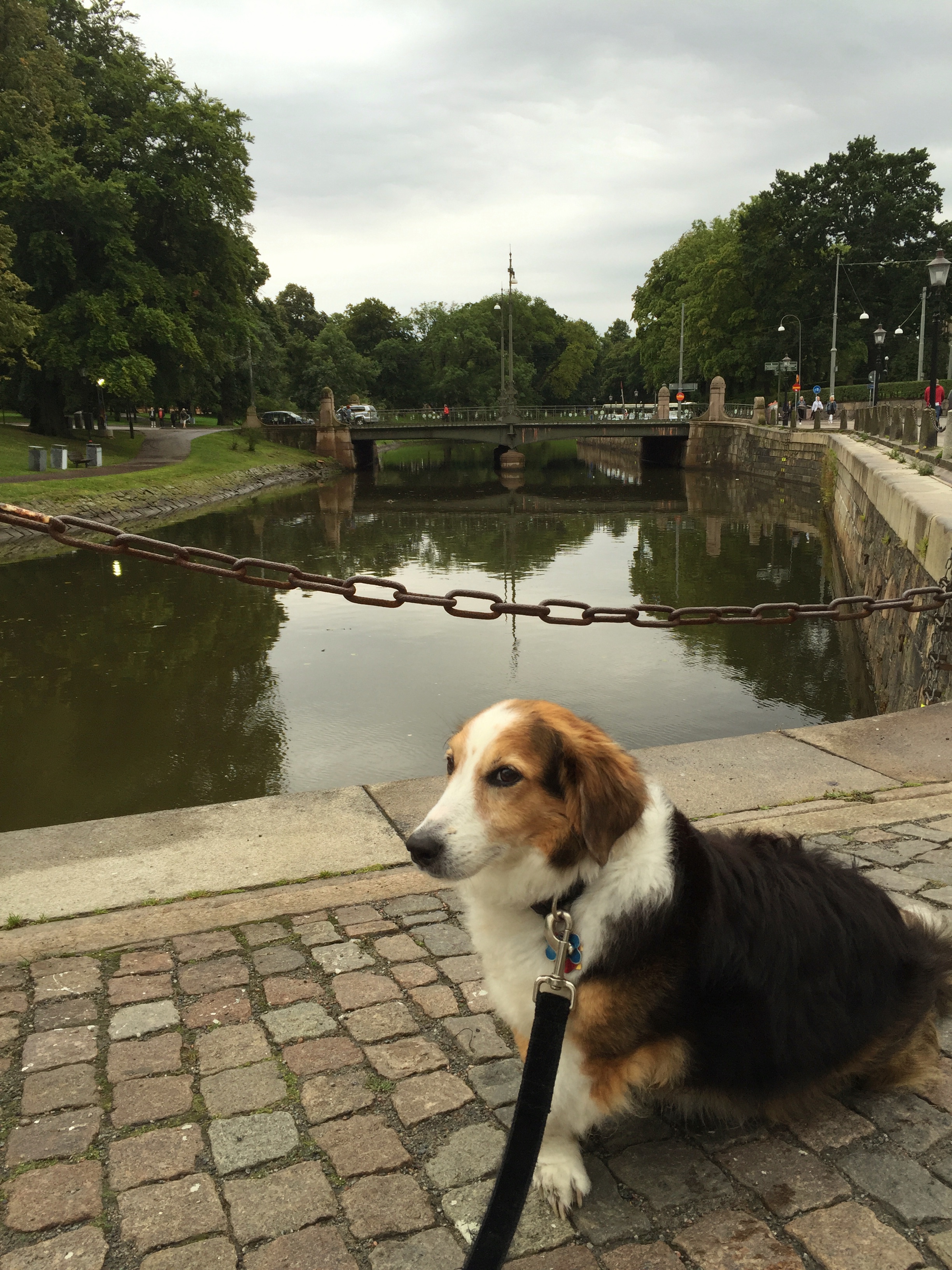 Croatia
Coming to Croatia after Sweden was a pretty big change: The days seem longer, the sun seems brighter, everything seems less expensive (especially veterinarians) and the people seem friendlier. Dogs in this country only take a back seat to the proliferate population of cats that leisurely roam the streets, but dogs are overall treated well here. Dogs are allowed on trains, although the Croatian train network is limited and there is no clear policy on dogs on public transit. When traveling via bus recently (to/from Plitvice), Mango was allowed aboard without question, but I saw the dreaded 'no dogs allowed' symbol on the bus maps in Dubrovnik. In Croatia, you'll see many dogs walking without a leash and this is perfectly acceptable. When taking the ferry from Split to Hvar, we boarded the vessel and were confronted with 'no dogs allowed' signs everywhere in the only seating area; we tentatively entered the packed room to find at least ten other dogs with their owners. I asked one of the the pet parents about the 'no dogs' policy and she said, 'No dogs are allowed but we don't care.' Love it, and everyone on board had a great 2-hour ferry ride packed like sardines and at the mercy of rambunctious kids and dogs; it has to be one of my best travel memories so far.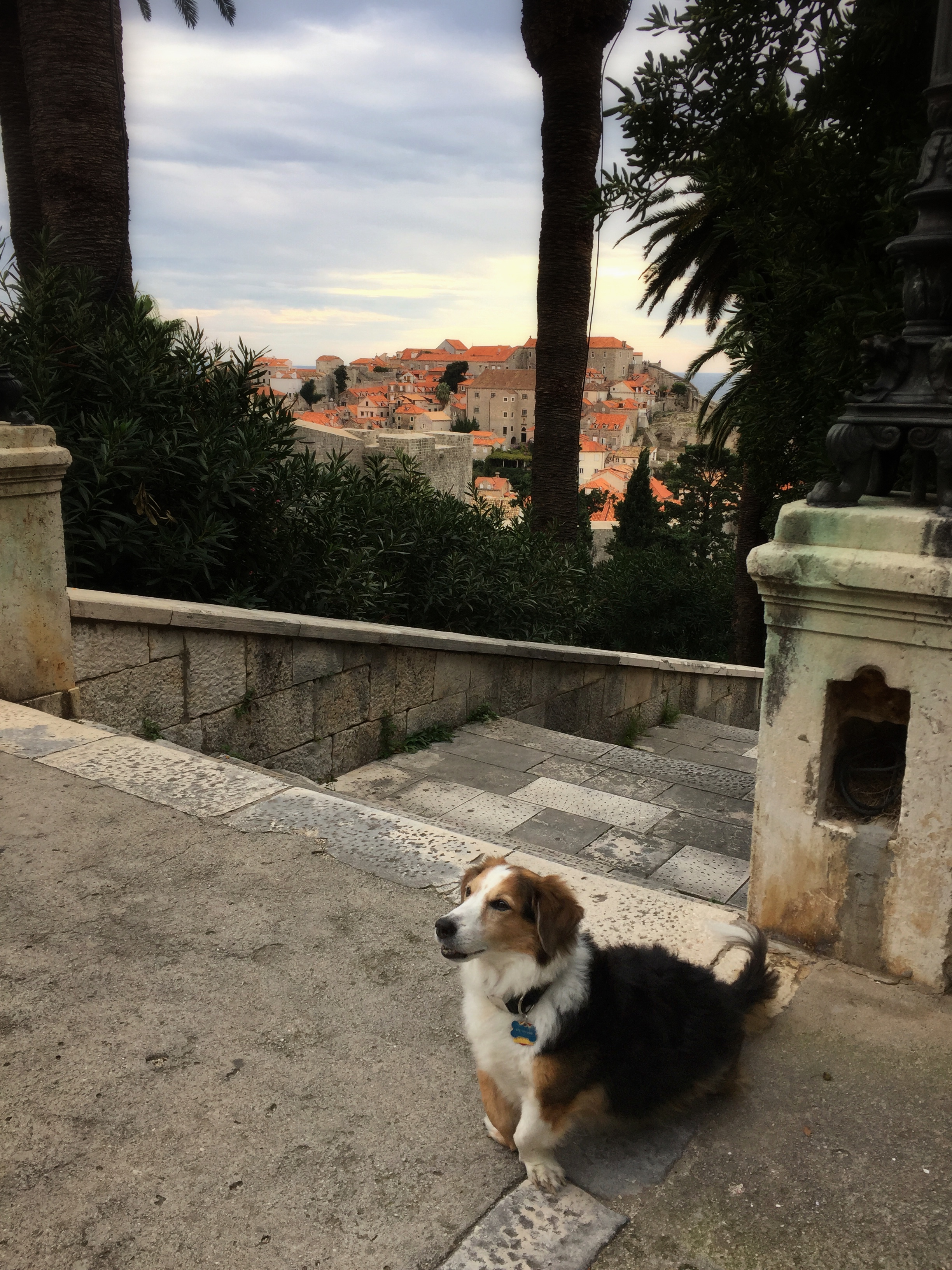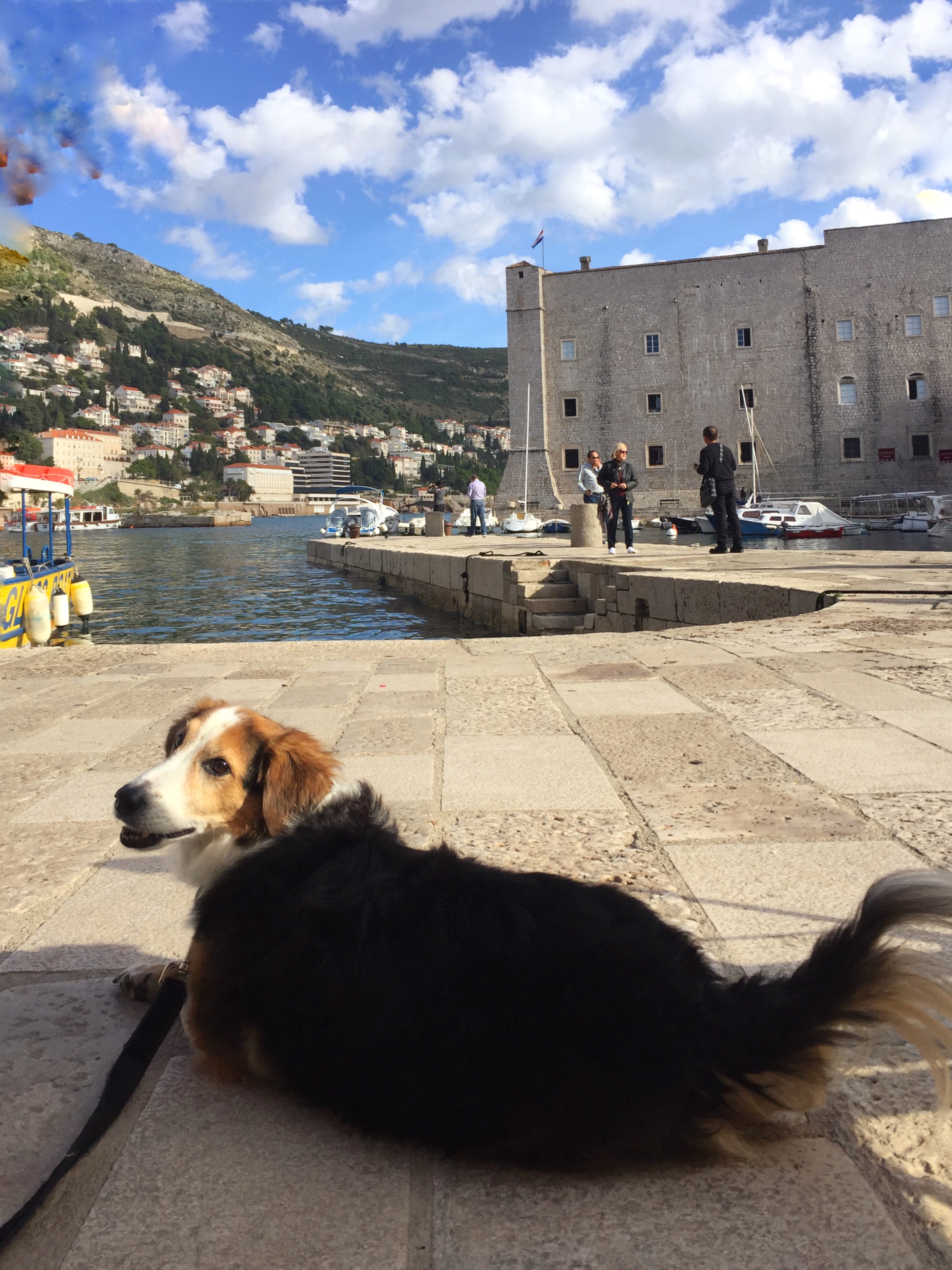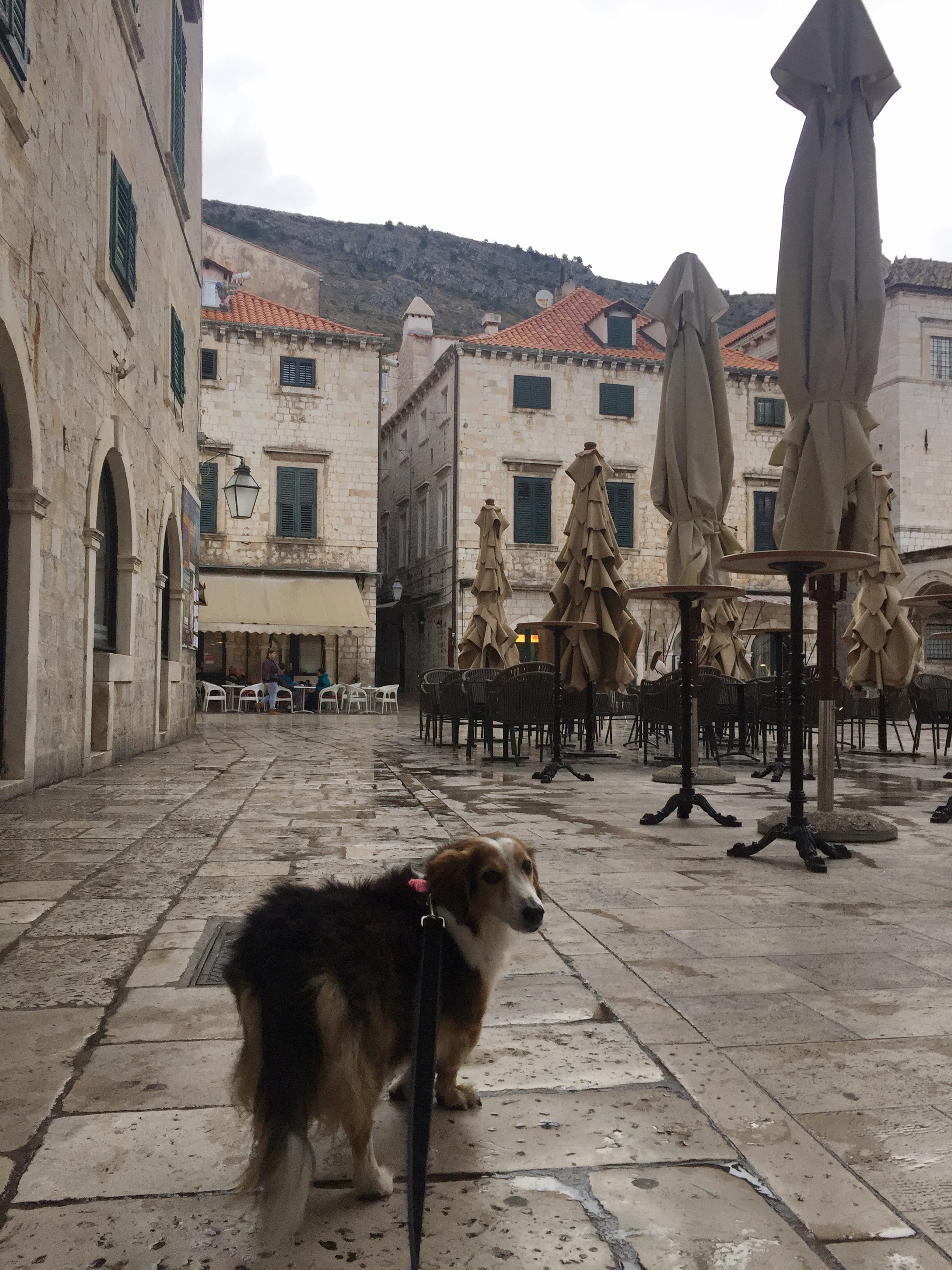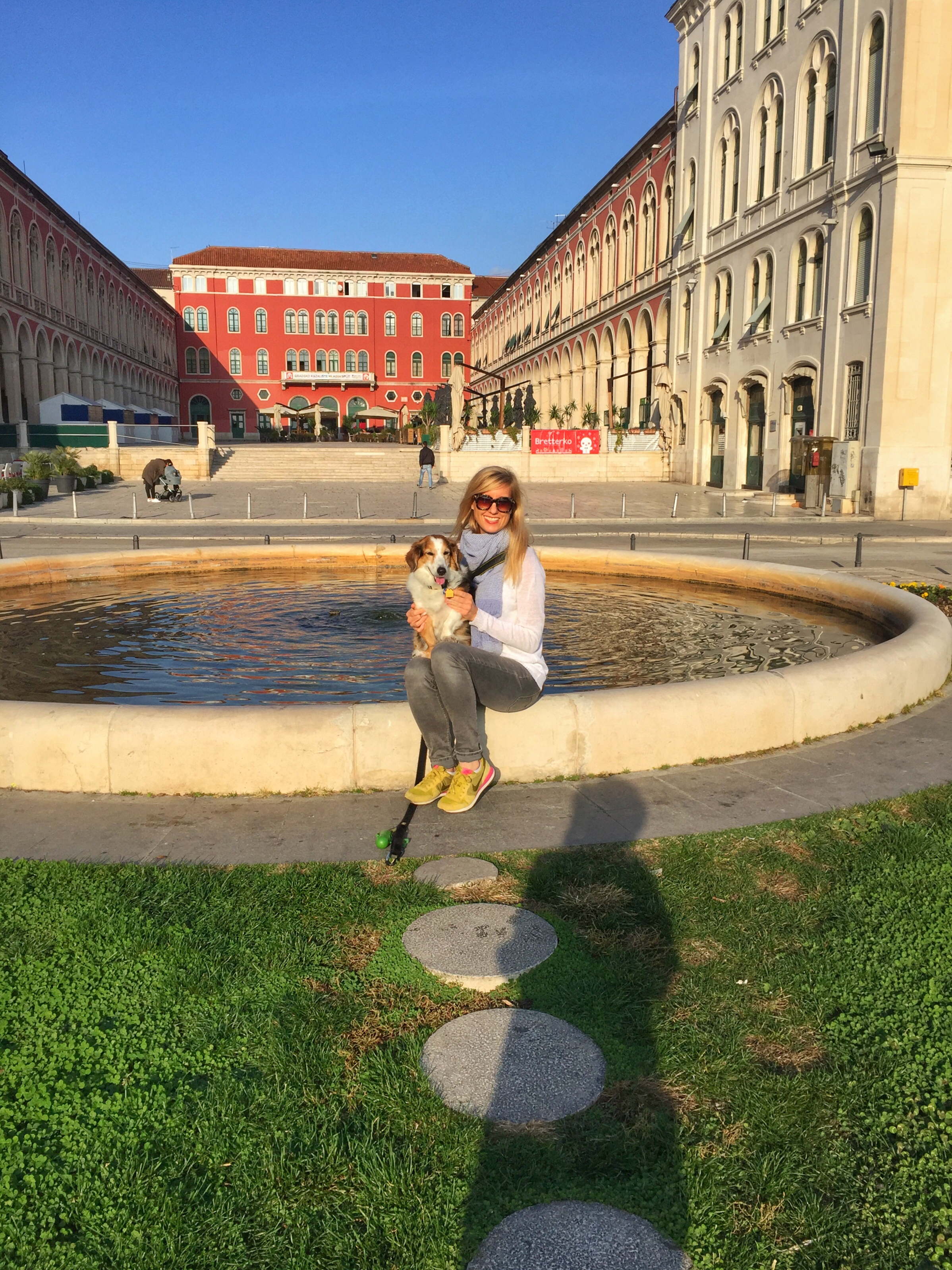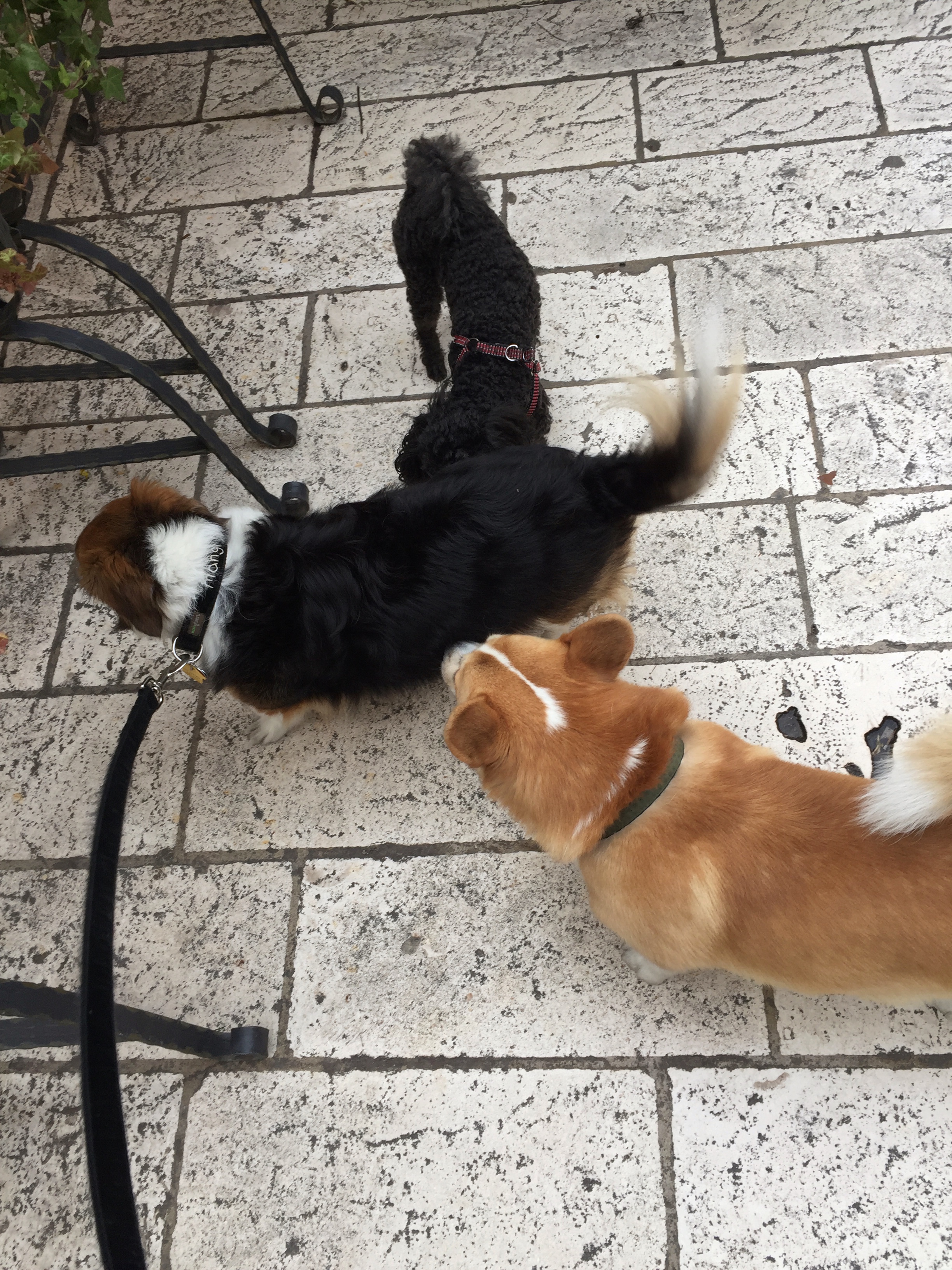 Slovenia
The good news is I got to see Slovenia and loved it; the bad news is I was there less than a week and didn't get to truly experience the country. Slovenia seems similar to Croatia in terms of dog-friendliness and I noticed dogs are allowed in the Ljubljana castle with a muzzle. Since I don't know much about this topic, my only option is to return to Slovenia in the near future to do more investigation.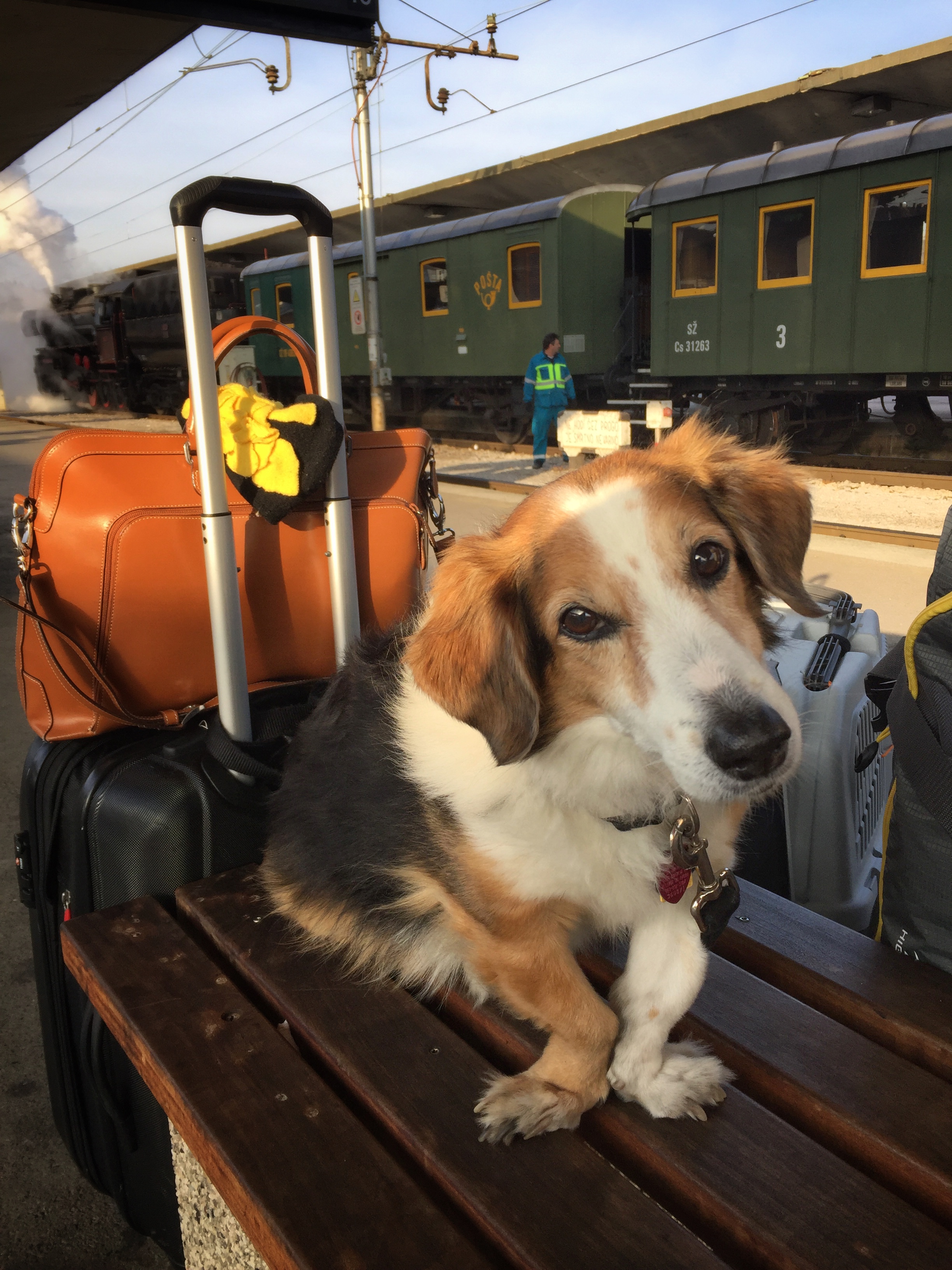 Czech Republic
Okay, technically I only visited Prague, but if Prague is representative of the entire country, then I crown it the most dog-friendly in the world. While in Prague, Mango accompanied me around town and was allowed in museums, a puppet theater performance, and even a Thai massage parlor (with a bit of reluctance). Dogs are allowed on public transit with a ticket and muzzle, although neither seemed enforced, and of course on trains and in restaurants. Czech law is friendly to dog owners and explicitly states that dogs can walk without a leash as long as the owner is in control of them. While we were in Prague, locals kept pointing out how cold Mango looked (never mind me in my woefully-inadequate fall jacket) so we made a trip to the awesome Dogtown pet shop to buy his first puffy coat.
Austria
Germany (see below) and Austria seemed pretty similar in terms of dog-friendliness, although Austrians are much stricter on trains. Dogs should wear muzzles and buy tickets on trains and public transit, and this was enforced for the most part. One popular café in Vienna's city center required patrons with dogs to muzzle them, so I found a dog-friendlier place to eat (and there are lots). Apart from these small rules, Austria is a great place for dogs to visit.
Germany
Ahh, the heart of central Europe. Germany is a very dog-friendly country, provided you abide by the rules. Deutsch Bahn, the national passenger rail company, requires tickets for dogs. Since I would purchase my train tickets online, I never found a way to buy a dog ticket so many times I was asked for a ticket and waved through with an eye roll, but a few times I had to pay on the train. In my experience, Germans mind their own business and aren't a judge-y bunch, characteristics I found to be refreshing when I left Mango at our seat on the train to get lunch and ran into him on my way back, having walked a good train car or two on his own with his leash dragging; no one looked at me funny or tsk-tsked me. Then there was the time in Berlin when I left him tied up outside the supermarket only find him weaving through the crowded checkout in search of me; the funny thing is people made way for him as if it was the most normal thing in the world and I couldn't help but chuckle.
Belgium
I would assume its close proximity to Dog-Friendly Capital of the World France has rubbed off on Belgium, because I really had a lot of fun there with Mango. We took a lot of day trips around the country and never had a problem on trains (it helped that I bought dog train tickets at the station, although I may have gotten away without them) or in restaurants. There was one incident in Brussels, though, that upset me: I was in a tourist-y café getting a beer with Mango, and we stopped at the bathroom on the way out. I brought Mango into the bathroom with me (strange, I know, but what were my options in the crowded café?) and on our way out a lady stopped me and pointed to a spot on the floor and then Mango. What looked like a smudge of poop was inches from my foot, and the lady curled her lip and said something that implied Mango had had an accident. Caught off guard, I asked her how my dog could have done that since he was in the bathroom with me because I genuinely wanted to know. She was too disgusted at me to respond, but the waiter came over and started yelling at me in French then walked away in a huff, leading other patrons to stare at me. I was so confused and stood there helpless; had Mango, my dog who had never had such an accident in his twelve years, somehow pooped while walking and I didn't notice? And is that even possible?? I found a paper napkin, wiped up some of the mess, and held it to my nose: It was chocolate. Freaking chocolate. I shoved the napkin in the lady's face and said the universally-understood word 'chocolate' then did the same with the waiter before walking out in a huff. Silly, I know, but I was genuinely miffed.
Netherlands
Mango and I had even more fun in the Netherlands, where we rented a bakfiets bike and took a relaxing tour of the countryside. (More on that in an upcoming post.) Like its Scandinavian neighbor Sweden, the Netherlands is a progressive country but with a higher degree of dog-friendliness. All-in-all, this is a great destination for dogs especially if they love being outdoors.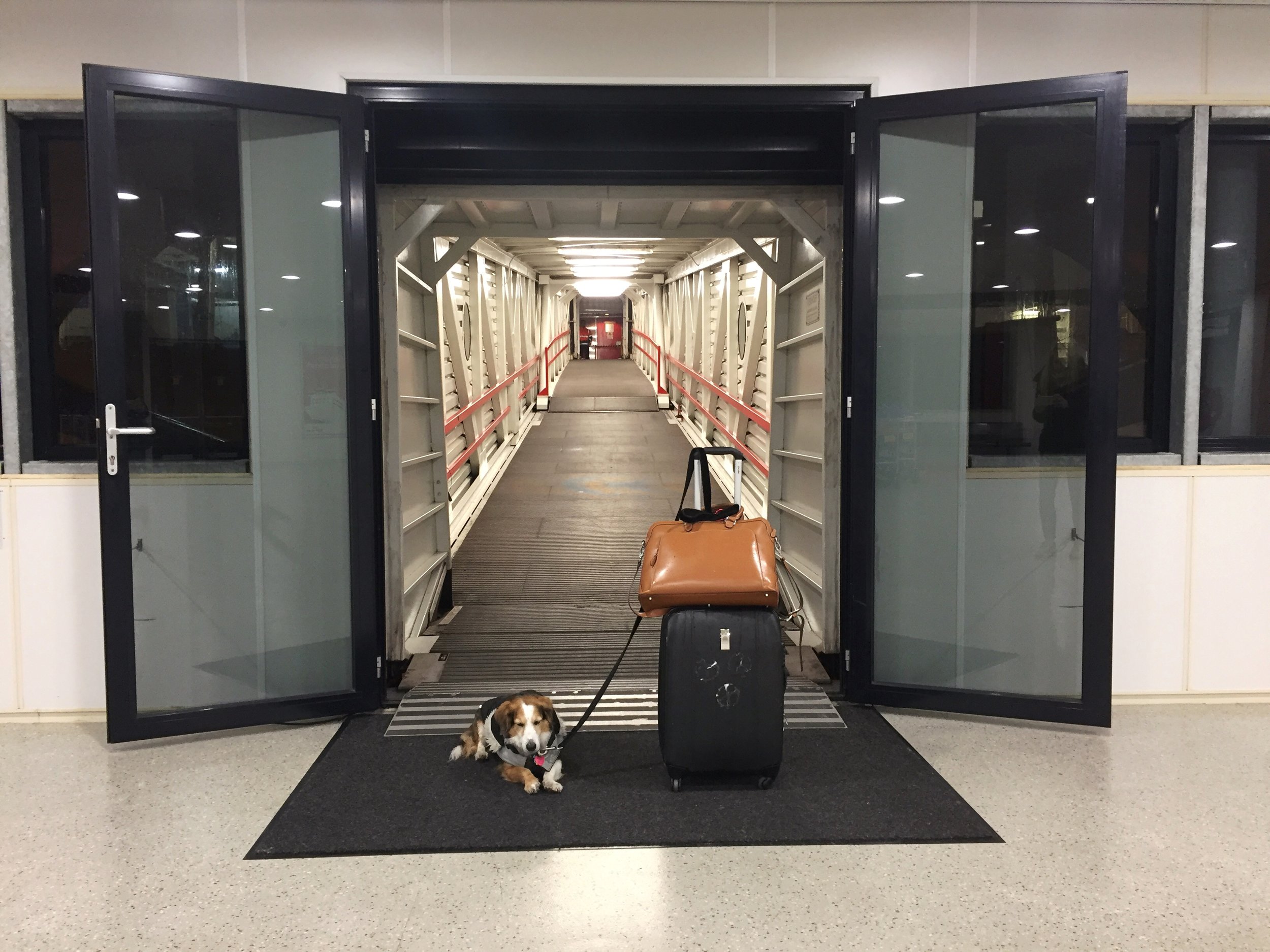 And the gold star for best tourist pet accommodations goes to... Madurodam of The Hague in the Netherlands.
When traveling, I make it a priority to visit museums and local attractions. I have run into a few places that allow dogs inside, but most understandably don't. For the less dog-friendly attractions, if I have Mango with me I will tie him up outside and go inside for a quick tour. I don't feel too guilty doing this because Mango loves the attention he gets in return, and it's socially acceptable in Europe. Regardless, knowing that your dog is safe alleviates stress and lets you enjoy the attraction more. That being said, visiting Madurodam gives dog-friendly attractions a whole new meaning. Dogs are not allowed inside the open-air attraction, but visitors can check their dogs with their bags at no additional cost (which is good, because Madurodam is expensive). Near the parking decks is a small shack with a row of kennels inside, so I left Mango in the company of another canine friend while I enjoyed Madurodam with a greater peace of mind. After my visit, I exchanged my kennel pass for my dog and we were on our way. Curious about this set up, I asked the staff all sorts of questions and learned that the kennel is very popular with visitors, especially in the summer. The girl didn't know the story behind the kennel or of other museums that offer similar services, but we both agreed that this was an awesome amenity for visitors traveling with dogs.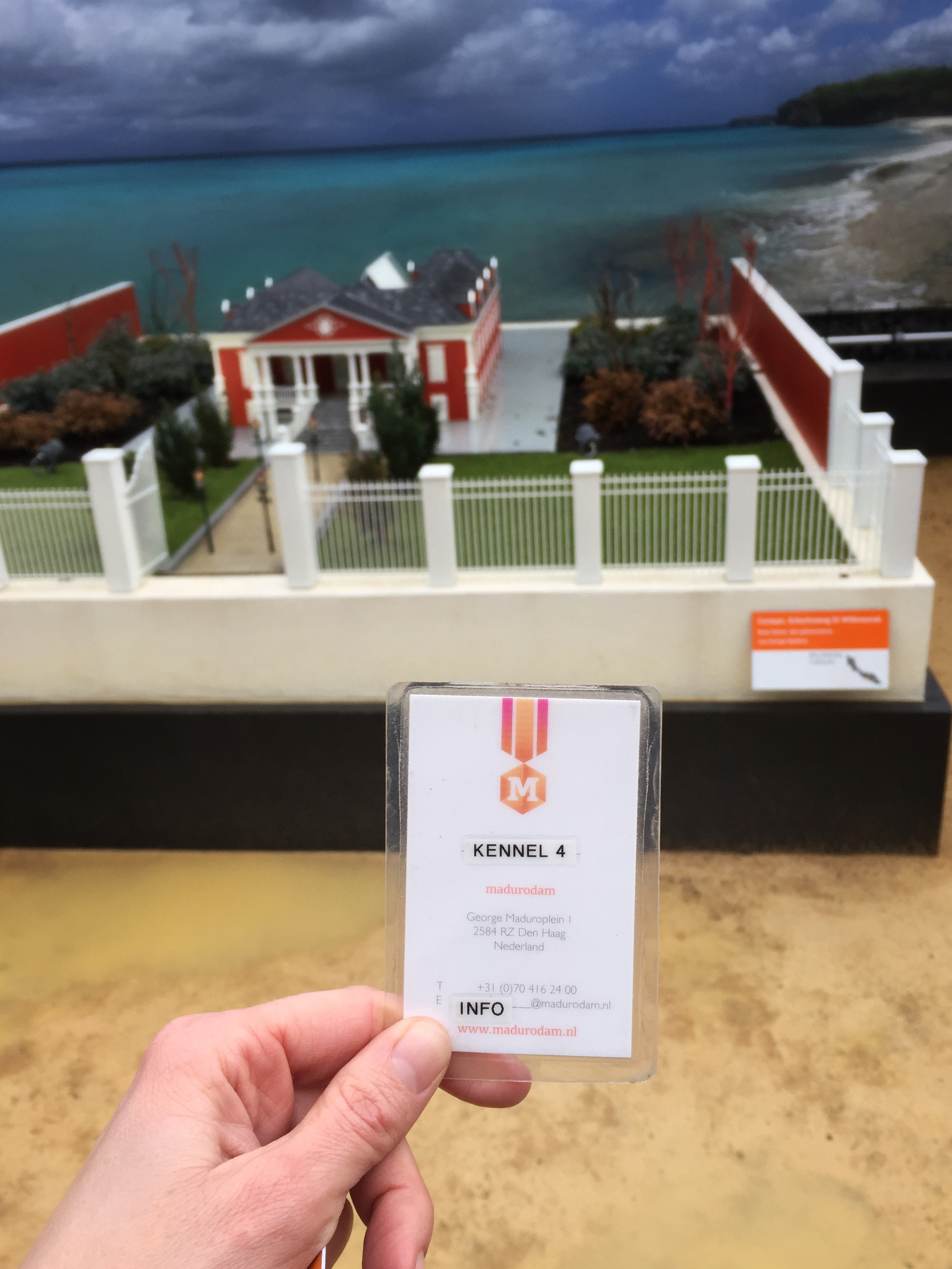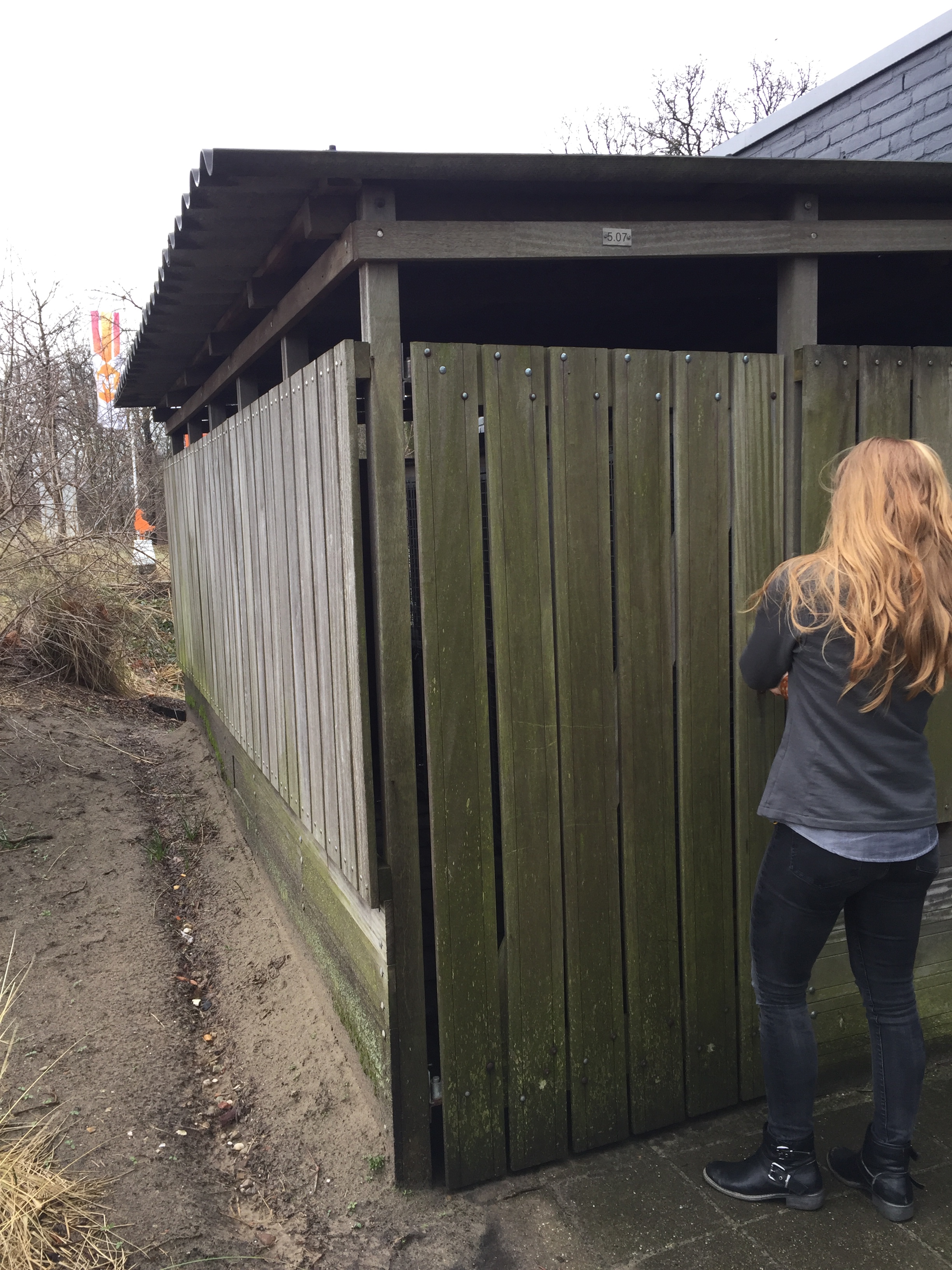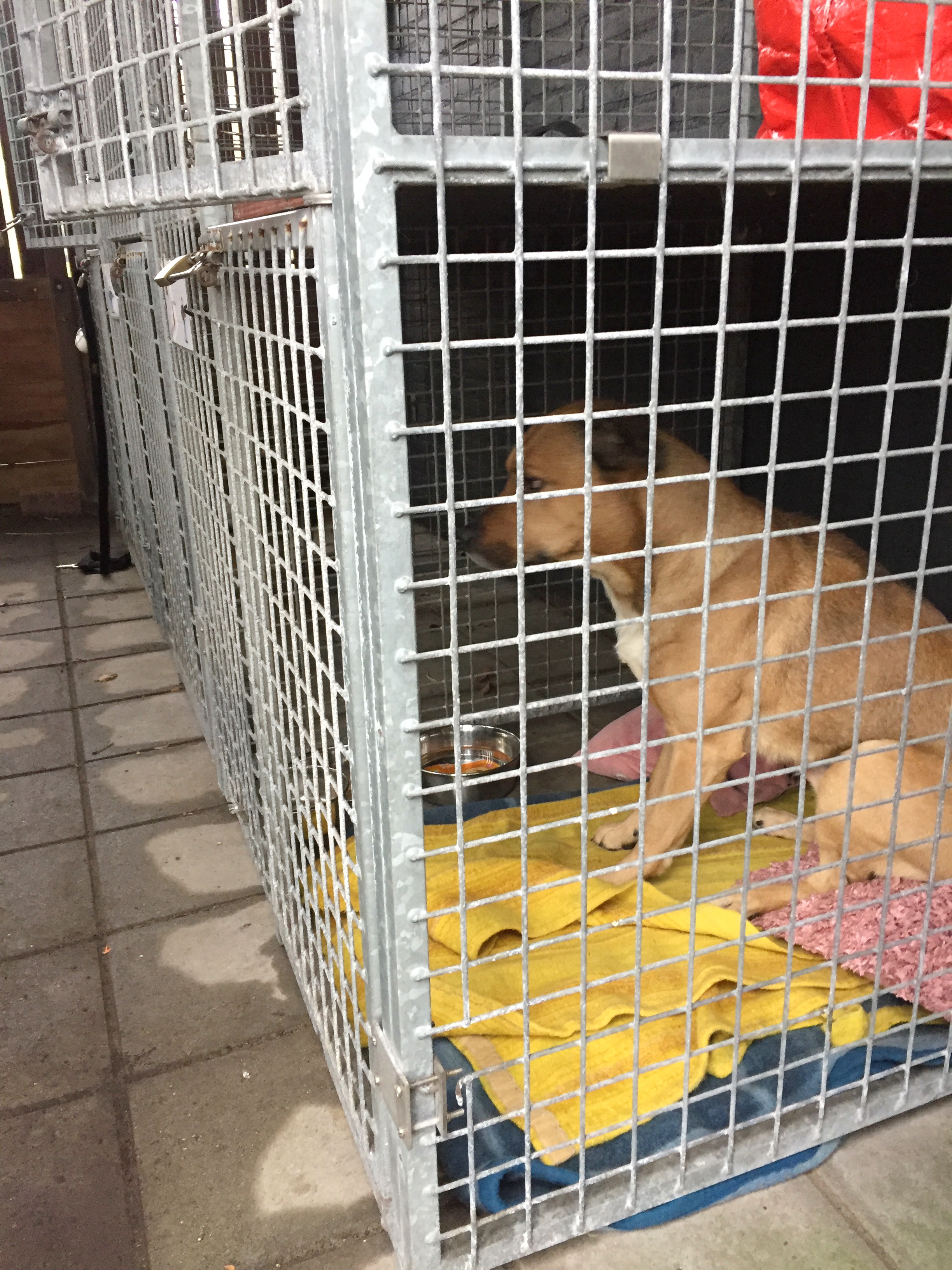 5 tips for traveling with a dog (mostly in Europe)
While traveling with Mango using trains and public transit, I do my best to stay on top of dog travel policies but don't always succeed. Sometimes agents are flexible with my lack of dog policy knowledge, sometimes they aren't. Here are five things I've gleaned from traveling with a dog.
FIRST CLASS. When riding trains, sometimes upgrading to first class costs only about 10 euros and guarantees more leg room and a reserved seat, which is crucial if you have your hands full with luggage and a dog and are scrambling with the masses to get on board before the whistle blows. Trains in Europe are hit-or-miss full, so spending this small amount for some peace of mind is very helpful. Bonus: Sometimes first class trains are completely empty; in my experience, regional trains seem less packed than intercity or international trains.
POOP BAGS. As in always have them on you. And not just so you can avoid picking up your pooch's detritus with your bare hands (as I've practically done sometimes), but for other non-dog related traveling purposes. Like using for snack bags, if you are willing to power through the lavender scent and strange looks.
NAPKINS. Mango has been housebroken his entire life and may have only had a handful of inside accidents in his twelve years. A few times traveling in train stations, though, Mango has relieved himself while I wasn't paying attention and having paper towels on hand makes clean up a breeze. I've seen other dogs urinate inside train stations, so I'm guessing the indoor/outdoor design of the station confuses them.
DOG POLICIES/TICKETS. Be aware of different rules for traveling with dogs, be it a national or regional policy. I recommend traveling with a muzzle for journeys within Europe, especially Slovenia, Austria, Czech Republic, and Germany, although muzzling seems inconsistently enforced. Another inconsistency is dog tickets for trains and public transit; sometimes information is available online, sometimes it isn't. Dog tickets are generally a flat fee of about 7 euros per dog for the entire journey, although purchasing a dog ticket on board and during the journey could cost ten times that (once I realized this on a journey and didn't bother buying a $70 ticket for Mango, and fortunately the agent didn't ask me for it).
BOTTLE OF WATER & PORTABLE BOWL. No brainer, I know. For the life of me I couldn't find water fountains in Europe, meaning I had to make a concerted effort to have water on me so I didn't have to buy a bottle (huge pet peeve of mine, fyi). Also, having water on hand is good in case your dog pee pees inside the train station, see above.
Mango's packing list
ThunderShirt (useless in the face of Berlin's New Year's fireworks bonanza, fyi)
Food & water bowls (I could probably jettison these to lighten my load, but then I'd feel like a crappy pet parent)
Portable bowl
Poop bags
Toothbrush & toothpaste
European pet passport & rabies certificate
Food (Mango's pet peeve, if you will; he is a spoiled dog accustomed to premium dog food Orijen -- a Canadian brand that can be found in many dog boutiques in Europe -- so getting used to the cheap, local kibble has been a challenge)