Later on I learned that Thailand means freedom. What could be better than a country named after the exact thing we were looking for?
-Alice Marano, Brokedown Palace (1999)
Okay, invoking Brokedown Palace to introduce my experience of traveling with a dog in Thailand may be a bit melodramatic, but it's the closest thing I can think of for purposes of comparison. Like its successor The Beach, this fictional movie is about two young, carefree, beautiful girls who travel to Thailand only to unwittingly ensnare themselves in a scam that lands them in a hellish Thai prison. Not going to lie, having a dozen rifles trained on me, sleeping on a dirt floor somewhere, losing a lot of money, being denied exit… Those were all scenes from Brokedown Palace that I imagined happening to me. But not because I had drugs hidden in my luggage like Alice and Darlene but because I dared to travel with my dog in Thailand.
After spending 10 hours cooped up in a packed airplane from Istanbul to Bangkok, everyone was relieved to get their bags and head to the nearest airport exit. Unfortunately, I was stuck running around BKK's massive baggage claim in search of Mango, who I hadn't seen since I dropped him off in cargo 13 hours earlier. I finally spotted Mango's kennel and loaded it onto the luggage trolley, just as a Thai officer glided up on a Segway angrily yelling and pointing at us. After gesticulating so wildly that I thought he'd call for a squad of officers with rifles trained on me, he wrangled me into his office for an hour of paperwork and questions (seriously, can my dog please be given the chance to relieve himself already??). We filled out the 1/1 form, and it looked like we were on our way…… Until he noticed that the health certificate I had prepared from Istanbul, Turkey, didn't have an official seal on it. (The vet in Istanbul mentioned something like this, but I didn't have time to visit another office so I was assured it shouldn't be a problem. Oops.) Maybe this was the part where the street-savvy tourist coolly slides a ฿1000 bill across the desk, but I was too exhausted and impatient for such creativity and I just asked him what to I needed to do. The officer responded that I go to the Turkish embassy, get them to stamp the vet's health certificate, and return it to the airport. Well, that sounded annoying and complicated, but the thought of leaving the airport without my dog prompted me to nod my head in agreement. I had to pay the paperwork fee ($15) and customs fee ($30) before being allowed outside with Mango.
While part of me was annoyed, the other part of me was relieved and I looked forward to staying in a nice air-conditioned, pet-friendly apartment. Traveling with a dog isn't common in Thailand so finding pet-friendly accommodations can be challenging. Mango and I pulled up to the building and paid the fare, which the taxi driver thoughtfully doubled on account of Mango. Whatever, I'm just going to grab some dinner, do some laundry, take a shower, go to bed early, and ignore the Turkish embassy issue for now. Exiting the taxi, I saw that the apartment was a shiny new tower with a rooftop pool and alert doormen, not my accommodation style of choice but one of Bangkok's few options. With Mango on a leash, I grabbed his bulky crate and heaved it towards the doorman, hoping he would open the door for me. Instead, he looked down at Mango and his expression turned from serene indifference to that of horror as if I was leading a wild bear into the building. "No in lobby, he must be in box," he said, refusing us entry; we called down the apartment owner and she also looked at Mango strangely. She explained that the apartment building isn't dog-friendly per se but guests could keep dogs in the apartment and take them through the lobby contained in a kennel or bag, unless we wanted to take the 17 flights of stairs in the garage. Um, yeah, my dog isn't a glorified guinea pig and he does his business (and exercise) outside at least three times a day like normal dogs do, so this wasn't going to work out. The owner felt bad about it (as she should!) and offered to keep me at her home, but I convinced her to let us spend the night so we could rest and find a new place in the morning.
Hoping something last minute in Bangkok was available so I wouldn't be completely stranded, I immediately jumped on the internet and managed to find a decent pet-friendly apartment in Bangkok. We changed accommodations the next day and fortunately the new place was an old-school Thai hotel with much more personality and a lower price tag, so I was happy with the transfer. After that, I spent a day dealing with the Turkish embassy, arriving there only to be told by some disinterested Turkish officials that the only thing I could do was to fly back to Turkey, go to three different offices for stamps, and return the paperwork to the embassy in Thailand for final approval. Hah, yeah right. I was persistent and got them to call the Thai officer at the airport, but nada. I left empty-handed and envisioned Thai police coming after me to confiscate my dog, or worse. I called the airport and did my best to explain the situation, and he told me to just return to the airport and pay a ฿1000, and he'd return Mango's EU pet passport which he had been holding on to. So yeah, the officer was probably okay with the "fine" route all along, I just had to spend double that on taxis around town to figure that out. Bastards.
When I returned from the airport after paying the fine, I was relieved to have successfully put out two major fires (Mango's stamp and pet-friendly accommodations) but then I realized something that shook me to the core: Mango is now in Thailand, so what about getting him out of Thailand? Not only were there complicated, time-consuming steps to get him an exit permit to leave the country, but – and much worse – I planned to return to Europe after Thailand, meaning that a titer test is required for any pets traveling from high rabies countries such as Thailand (surprise surprise). And Mango has never had a titer test, a process that could take up to four months to complete. The minute I realized that Mango and I could be stuck in Thailand and not be able to enter Spain to apply for residency made me want to crawl into a corner, put on Simon & Garfunkel's Sound of Silence (hello darkness my old friend…), and cry. What was I going to do?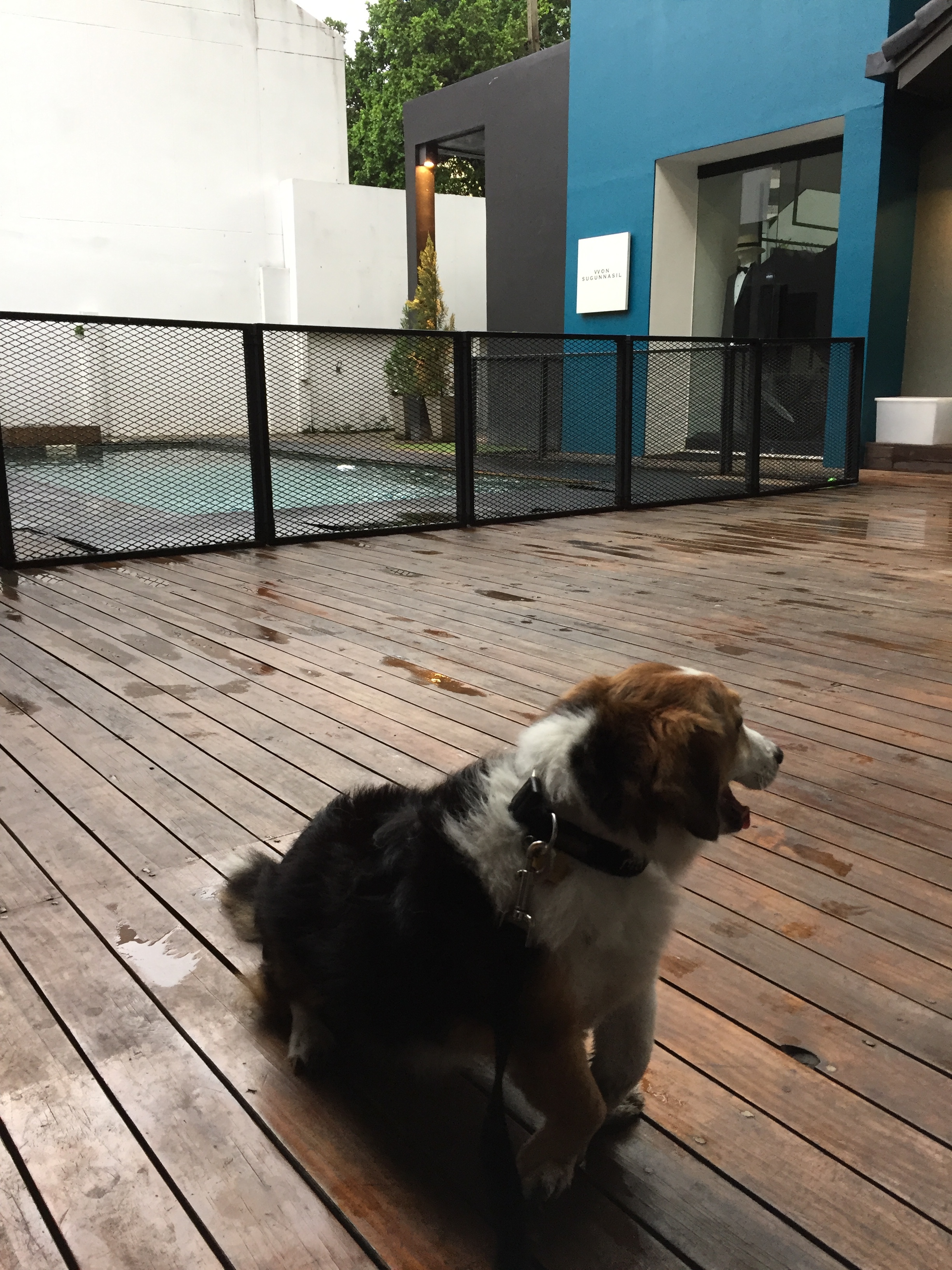 Also during this time, I decided to make a trip to Cambodia for a sightseeing and medical detour, so I scrambled to figure out what to do with Mango. With a bit of research, I learned that the only way to cross the border with dog is by flight, and the thought of dealing with dog travel issues again made me shudder. Besides, dogs are definitely not allowed on Thai public transit or trains (although dogs are allowed in the AC-less 3rd class train cars). I did my best to find decent kennels, dog-loving expats, or local dogsitters, but was coming up short. As a side note, Thai society treats dogs differently than Western countries, with street dogs barely surviving and overbred designer dogs serving as accessories, so finding clean, spacious, and loving accommodations for Mango in Bangkok was a tall order. BUT my search was fruitful and I found Barkyard BKK, a gem of a place centrally-located with a large yard for dogs to run around in, decent prices, and animal-loving staff. I can't tell you how relieved I was to stumble upon this place, and felt comfortable enough leaving Mango there so I could visit Cambodia. I worried that Mango wouldn't have a good time because he's not the most social dog, but he seemed to have made a few friends during his stay. Barkyard BKK may be Bangkok's poshest dog hotel at the moment, but their nightly rates are reasonable at just $20/night, or more than my Cambodian hotels.
When I returned to Mango ten days later, I was torn: should we continue on our journey throughout Thailand, with the possibility of being denied an exit permit when we were ready to leave? Or should I go ahead and try to leave Thailand, and travel more in Thailand only if stuck here? My entire time in Thailand I was gripped by panic and fear of another lose-it-all scenario, and I refused to plan anything in the uncertainty which made me feel even more uncertain. I eventually bought a ticket out of Thailand, because I didn't want to visit Chiang Mai (by 24-hour 3rd class train ride or a $370 14-hour Uber ride, round trip in both scenarios) only to have to make the journey again. Plus, the stress of not knowing consumed me and I didn't want it hovering over my head as I tried to enjoy Thailand. So, I booked a flight to Bosnia and crossed my fingers we'd make it there without an issue.
In preparation of our trip out of the country, Mango and I spent a few hours in taxis to and from the airport to get his exit permit before the flight. In all of my travels with Mango, I've never dealt with such red tape as I did in Thailand, and I didn't know what to expect in this situation. When the taxi driver and I finally got through traffic and found the right airport building, the office was closed when we arrived (the clock said 4:26 and closing time was 4:30, go figure). We were told to come back the day of our flight and we did, and fortunately I got Mango's exit permit in less than two hours. The girl taking my information asked about a titer test and I responded that I didn't think I needed it, which apparently was a good enough answer to move the process along. Phew.
Exit permit in hand, Mango and I made our way to the airport. Things were going smoothly. Then we got to the ticket counter, and Turkish Airlines said I had to pay $550 for Mango to fly in cargo. My jaw almost dropped, because never before had I paid so much. In the past, I winced at paying about $160 for Mango to fly so this large sum was new to me. They "explained" the fee to me and I tried to protest, but what could I do at that point? I resigned myself to paying the amount, but somehow they only charged me half of that. I'll take that as a good sign.
I followed our travel routine and dropped Mango off with oversized cargo and made my way to the plane. Fifteen hours later we were reunited in Sarajevo, Bosnia & Herzegovina. Unlike Thailand, I simply de-boarded and picked Mango up from the unmanned oversize baggage claim and we were off. Fortunately, the Bosnian airport is small and fairly laid back and the customs officer casually asked for Mango's passport as we were leaving, just to flip through it before returning it and motioning for us to pass. That's when I tasted it: freedom. Mango and I had made it out of Thailand and into Europe without a hassle. It was a miracle!! Surprised by my luck and a little bit in shock, I decided to head straight to my favorite place of refuge, Zagreb; since the bus wouldn't let Mango on board, I had to pay a taxi $300 for the 5-hour journey, but that was a small fortune I was happy to pay on account of my freedom. Mango, we made it.
So that's a winding summary of the obstacles I dealt with in my month traveling in Southeast Asia with a dog. Before leaving for Thailand, I did my best to read up on requirements and expectations for traveling with a dog. There was little information to go on, the majority of which was about moving a dog to Thailand, not traveling with a dog in Thailand. So, judging by my experience and the lack of information out there, I think it's safe to declare that traveling with a dog in Thailand is not common, mostly because it's a big ol' expensive hassle. Don't get me wrong, I'm glad that Mango and I went to Thailand together and it would have been nice if the country was pet-friendly enough that we could have traveled around with no problem instead of being stuck in Bangkok in planning purgatory, but that's just not the reality. I ran into some dogs with foreign owners in my Bangkok hotel, but they were either living there or knew about the titer test, so clearly I had bitten off more than I could chew. Mango and I rode one hell of an emotional roller coaster getting into Thailand and back out, and I'm glad that our Thailand story ended with us leaving together and returning "home" to Zagreb, where we can travel freely and enjoy the sights as a team, and not as two friends torn apart at the end of a vacation with one left to rot in a Thai prison and the other returning to a normal yet guilt-ridden life a la Brokedown Palace. So, in summary, I couldn't agree more with Sarah McLachlan when she sings "I am free" on the movie's soundtrack.
Paperwork & forms related to Thai customs...